Yes, this women's minister gave a prize to a woman who says women shouldn't be in men's jobs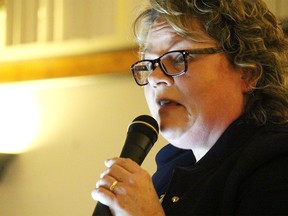 Article content
On first reading, the essay that won a $200 prize from the UCP government sounds like a bad joke.
Article content
Really, how could a government that claims to support women in the workplace give a prize to intolerant drivel like this?
"To try to promote that women break into careers that men traditionally dominate is not only misguided, but it is harmful," reads one line of the essay.
According to the unidentified young woman handed third place by female MLAs in the UCP caucus, "such a focus detracts from the languishing unique strength and the truly important role that women have in the preservation of our community, culture and species."
And there's this gasper, a clear echo of the race replacement theory so common in white supremacist circles: "While it is sadly popular nowadays to think that the world would be better off without humans, or that Alberta children are unnecessary as we can import foreigners to replace ourselves, this is a sick mentality that amounts to a drive for cultural suicide."
Article content
The author goes on to say there should be cash awards for women who bear "two+ children."
This isn't cherry-picking of quotes from the essay. The whole thing is like that. It implies that women's only value is their capacity to reproduce.
Social Credit newsletters from the 1930s — with a special Queen Bee section for the girls in a time of eugenics and vicious anti-Semitism — weren't as blatant.
The prize for this essay was awarded by Jackie Armstrong-Homeniuk, the associate minister for status of women.
Yes, this women's minister gave a prize to a woman who says women shouldn't be in men's jobs.
It followed a competition through the Commonwealth Women Parliamentarians Association, of which she is the Alberta chair.
Article content
Armstrong-Homeniuk didn't apologize at first. Instead, she said that while the essay "certainly does not represent the views of all women, myself included, the essay in question should not have been chosen."
She went on to stand up for "giving women of all ages a voice," thus appearing to agree that all those views deserve a voice, just not a prize.
But then Armstrong-Homeniuk got an earful from alarmed caucus members and ministers. In an updated statement, she said, "they have raised concerns with me about how such an essay could be selected for an award.
"As the minister for the status of women, I want to emphasize that I do not support rhetoric that in any way diminishes the importance and contributions of more than half of Alberta's population.
Article content
"It was clear that the process failed and I apologized for my role in that. The selection of this particular essay and awarding it with third prize was a failure on my part as the head of the judging panel."
That apology is also the closest thing to an admission that the judges actually read the essay and believed it was just fine for a prize.
Premier Jason Kenney's office said Wednesday afternoon that the minister isn't being booted from cabinet for this.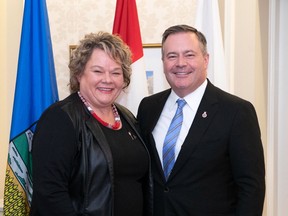 The NDP children's services critic, Rakhi Pancholi, called the essay "misogynistic, sexist, transphobic, racist, and fascist." The language "sends a terrible message to the young women of this province."
UCP leadership candidate Leela Aheer, who was ejected as status of women minister after she criticized Kenney, thought the essay was a joke at first.
Article content
"It was just hard to believe this was serious," she said, but if anything like it had gotten past her, "I would severely question my own ability to do the job."
Candidate Danielle Smith was less direct. Noting that the minister has apologized, she said, "Our little girls and young women need to know that in this province they may aspire and ascend to any role, career or office they choose . . . Alberta is welcoming to everyone, no matter their background."
A third female leadership candidate, Rebecca Schulz, said, "It's a disgrace that an essay saying women are not equal to men won an award sponsored by the government."
Legislature Speaker Nathan Cooper said he was shocked when he realized the essay was on the assembly website.
Calling it "abhorrent," he ordered everything about the essay contest be deleted from the site at once.
All that's left is an error notice — and questions about what some people in this government really believe.
Don Braid's column appears regularly in the Herald.
Twitter: @DonBraid