Yasbirat Ytatek, the oldest of five children, would have attended Grade 12 this fall.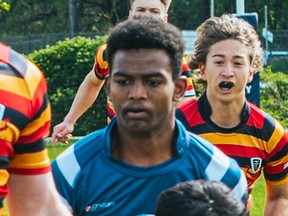 Article content
The second teen killed in a fiery crash with a driver fleeing police on Tuesday night was a 17-year-old high school student.
Article content
Yasbirat Ytatek and friend, Samir Ali, were on their way home from a soccer game when their vehicle was hit near the Burnaby-New Westminster border by a Nissan Altima speeding away after Transit Police tried to stop the vehicle.
The teens were declared dead at Royal Columbian Hospital.
Ytatek was the oldest of five children, according to a family friend, Mitsilal Weldahaimanot. His family, recent immigrants from Ethiopia, lives in Burnaby's Edmonds area and is struggling with the death. Ytatek would have started Grade 12 this fall.
"Neither of his parents is able to work after suffering from this tragedy, so we are reaching out to the community to help support the family," Weldahaimanot said of a GoFundMe page.
Article content
Ytatek was named player of the month in March by his soccer team and recently earned a spot on the prestigious Burnaby District Metro Soccer men's team.
Ytatek had also earned certification to be a personal trainer in the Burnaby school district and played rugby with Byrne Creek Rugby Club.
"The community's been through a lot, this couldn't be true," Moreno Stefanon, his coach at Byrne Creek and a teacher at Edmonds Community School, said of his initial reaction. "I'm still in shock."
It's the fourth loss of life in the Edmonds neighbourhood in the past three months: A 14-year-old girl died after being struck by a dump truck in May, and two Byrne Creek alumni were murdered the following week.
Stefanon cried when the realization hit. He said he still feels numb and still catches himself referring to Ytatek in the present tense.
Article content
"Yasbirat is such a wonderful young man, he has a world of potential in front of him," Stefanon said.
When the teacher arrived at Byrne Creek five years ago, Ytatek was a recent arrival and learning English in Grade 8. Stefanon recruited Ytatek for the school's rugby program.
"He just has this infectious smile, this charisma, this positive attitude toward life. Just a wonderful young man to coach.
"It's tragic, I don't know how else to describe it because it was not of his doing, it was just the wrong place at the wrong time."
The other victim, Samir, whose legal name is Olyad Suleiman, was a Britannia Secondary School grad set to study kinesiology at the University of B.C. with a $50,000 scholarship in the fall.
Olyad's family immigrated from Kenya five years ago and lives in East Vancouver. An online fundraiser has also been set up to support his family.
Article content
His family had been kept in the dark about the whereabouts of their son's remains for more than 60 hours, but finally got to view their son on Friday afternoon, a neighbour of the family said.
Family of Vancouver teen driver killed by fleeing suspect frustrated by stonewalling

Two people killed in crash with car fleeing Transit Police in New Westminster
Metro Vancouver Transit Police said its officers had tried to pull over a white Nissan Altima at 10th Avenue and 6th Street in New Westminster minutes around 11 p.m. on Tuesday.
The speeding vehicle caught fire after hitting the teenagers' vehicle, police said.
The driver and the passenger of the Altima were arrested. Charges of prohibited driving, dangerous operation of a motor vehicle causing death and flight from police have been recommended.
Because of the deaths, the matter has been turned over to the Independent Investigations Office of B.C. Transit Police, Burnaby RCMP ad the IIO all refused to comment further.
gordmcintyre@postmedia.com
chchan@postmedia.com