Social media users have speculated that an object that crashed in a Russian city around 220 miles from the Ukrainian border may have been a stray Russian hypersonic missile.
The incident took place in the Turkmen district of the Stavropol region on Wednesday according to the Ukrainian military center, which said that when emergency responders tried to control the flames, an explosion took place on the ground, injuring six people.
Russian media channels said the object was a Ukrainian Tu-141 Strizh reconnaissance drone, but the Ukrainian military center said that the wreckage found at the site of the explosion "does not support this version."
Images of the aftermath of the incident led Twitter users to note similarities between the wreckage of the aircraft and the Russian Kinzhal missile, in particular, the winglets and the separation mechanism of the weapon's booster, according to online publication Aerotime
"Anyone wondered what #crashed today in #russian Stavropol' region injuring 6 firefighters, you'd be very much surprised to know that it wasn't a 'Ukrainian UAV,' but a russian #Kinzhal missile," tweeted user LotA.
In a follow-up tweet, the user suggested that the "booster" or the nozzle's aerodynamic cover had not separated from the missile, "which would probably mean that the main engine didn't ignite…my guess would be a failed launch towards Ukraine."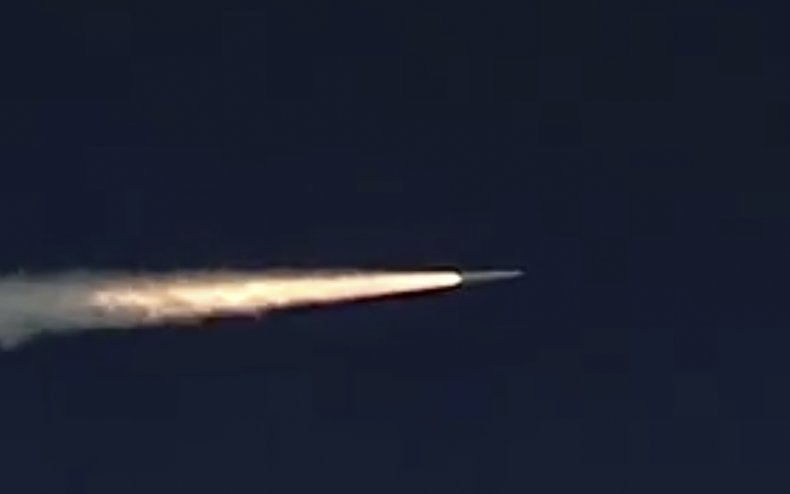 The thread was shared by open source user OSINTtechnical who wrote to their 618,000 followers, "In the last 6 months, Russia has hit Ukraine with three Kh-47M2 Kinzhal 'hypersonic' missiles and itself with one."
Aerotime reported that the presence of a booster on the wreckage likely indicated that the missile either misfired or was accidentally dropped by an aircraft.
The Kinzhal missile is a hypersonic weapon that is among a new generation of weaponry that Russian President Vladimir Putin has repeatedly touted as a sign of Moscow's military might. Russia says that it can reach up to 12 times the speed of sound.
Ukrainian officials said that the same missile had been used by Russia to target the dam of the Karachunivske Reservoir in Kryvyi Rih, a city in the center of the country which is the birthplace of President Volodymyr Zelensky.
Oleksandr Vilkul, the head of the city's military administration, said Russia had also used Iskander missiles to target the reservoir, The New Voice of Ukraine reported, although it is not clear if the incidents are related.
The strikes destroyed a water pumping station and flooded the embankments forcing the evacuation of some residents, CNN reported.
In his nightly address, Zelensky condemned the strikes, saying they had "no military value at all" and by trying to impact "hundreds of thousands of ordinary civilians" was another reason "why Russia will lose."
Newsweek has reached out to the Russian defense ministry for comment.