Midway through the second day of selling from Book 2, Sept. 15, bloodstock agent Donato Lanni, bidding over the phone, landed a final bid of $1.7 million to secure the Quality Road   colt during the Keeneland September Yearling Sale. The bay colt consigned as Hip 886 by Nardelli Sales will be headed to West Coast trainer Bob Baffert for Amr Zedan.
"Bob loved him; everybody loved him. Everybody was waiting for him to walk through the pavilion, and all the usual suspects were visible, and he's a beautiful horse," Lanni commented.
The colt is out of the winning Street Sense   mare Act Now, a tail-end family member to stakes winner Spunoutacontrol , a half sibling to grade 1 winner Minardi  and to sire Tale of the Cat. The Wild Again mare produced the fast grade 2 winner Fed Biz   and Spun Silk , dam of grade 1 winner Joking .
Lanni commented on the colt, saying, "A super athletic and pretty laid back individual. He is a fast-looking Quality Road and made really well. He's the kind you want to take home.
"Bob did such a great job with Corniche  . And I think Bob's a believer, and he loves the sire. Corniche was brilliant, and this horse kind of reminds me a lot of him."
Sign up for BloodHorse Daily
Consignors Rodney and Kim Nardelli of Nardelli Sales consigned the colt, which they bred in partnership with William Werner and W.S. Farish.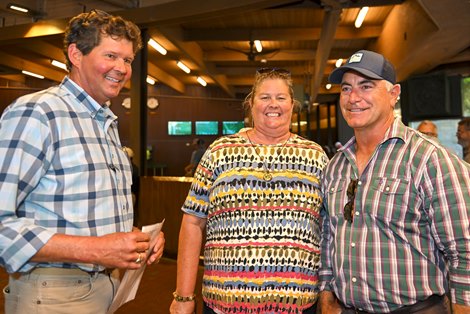 (L-R): Rodney Nardelli, Kim Nardelli, and Donato Lanni after the sale of Hip 886
"He's a lovely horse we bred and raised," Rodney Nardelli said. "He's got everything: he's beautiful, correct, and he vets. He's been nice all his life. We're appreciative of Keeneland's format and the support of the buyers. We were trying to get away from some of the competition (in Book 1). Most of the major players were on him."
The fourth selling session saw 230 horses of the 320 on offer selling for gross receipts of $56,635,000, at an average price of $246,239 and a median of $202,500. There were 90 individuals who failed to meet their reserve to represent an RNA rate of 28.1%.
"Overall, week one, we've had a 10% bump in average and median after what was a really exciting week one last year. Clearance rates improved the RNA rate for the week is 25% versus about 30% last year, so everything's really trending in the right direction," Cormac Breathnach, Keeneland's director of sales operations, said. "I think our opening session was very gratifying and strong. I just feel a sense of gratitude to the breeders because, again, they really worked with us and supported us and what we're trying to do. Seeing these results gives us a lot of energy and encouragement."
Last year at this time, 209 of the 289 horses through the ring changed hands for gross receipts of $49,891,000. An average price of $238,713 and a median of $200,000 was recorded. There were 80 horses who failed to meet their reserve to represent an RNA rate of 27.6%.
The partnership of Repole Stable and St. Elias Stables purchased 12 yearlings during session four to be the leading buyer with gross receipts of $3,875,000 at an average price of $322,917.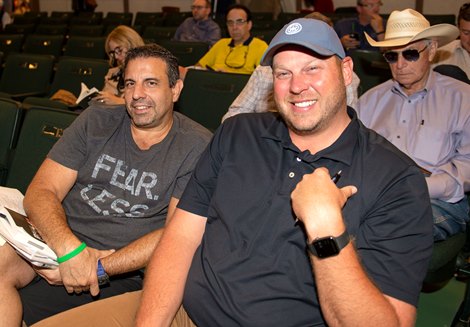 (L-R): Mike Repole and Jacob West at the sale
"The partnerships have been incredibly important, whether it's St. Elias and Mike Repole, SF/Starlight/Madaket, West Point, or Lane's End," Tony Lacy, vice president of sales for Keeneland said. "These are all groups that have been successful. And what's really encouraging, it's viable because they're investing a lot of money and getting rewarded. They're working the market well, and because they're very astute and are professional buyers, they're reaping the rewards and having a ton of fun."
Stalwart leading consignor, Taylor Made Sales Agency, sold 25 horses Thursday for gross receipts of $5,915,000 and an average of $236,600 to be the session's leading consignor.
"Today was a good day, but I think people got some good value," said Duncan Taylor of Taylor Made Sales. "There were some horses that sold for fair trade, but we thought a few we sold after Wednesday would bring a little more." 
Taylor added: "Hopefully, it will stay strong because these sales come in waves; today, we had a good turnover rate. We were selling most of them and not having to buy too many back. We sold a couple of nice Curlin   fillies; people got them for $225,000 to $250,000, and that's not overpaying; that's good value. Overall it's been a great sale; this market has been unbelievable."
Cumulatively over the past four selling sessions, 694 yearlings of the 898 under the hammer have been sold for gross figures of $241,875,000. An average price of $348,523 and a median of $270,000 was recorded. There were 204 horses to date that have failed to meet their reserve to represent an RNA rate of 22.7%.
Last year at this point in the sale, 664 of the 888 horses offered sold for gross receipts of $207,959,000, at an average price of $313,191 and a median of $250,000. Two hundred twenty-four horses failed to meet their reserve to represent an RNA rate of 25.2%.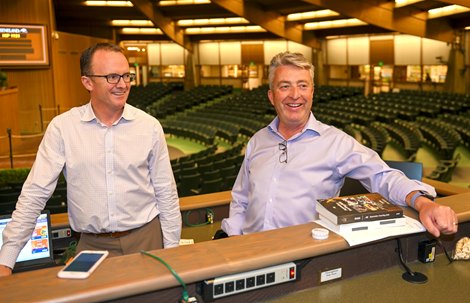 (L-R): Cormac Breathnach and Tony Lacy at the sale
A Dark Day will be observed tomorrow, Sept. 16, with selling resuming Saturday, Sept. 17, from Book 3, Hips 1131 – 1546 to head through the ring beginning at 10:00 a.m. As of Thursday evening, there were 27 horses withdrawn from the fifth session.
"It was an incredible week when you look at it. We're never satisfied and are always going to question how we can do it better," Lacy said. "We appreciate everybody's support because that's what makes it possible. We were changing some things this year and leaning into a quality-forward sort of attitude, which really paid off. Books 1 and 2 were a solid group of horses and buyers; it's an important part of the market. As we turn the page now and start heading into Book 3 and enter the second week, I think the activity in the barns again is very strong and encouraging, and I would predict the middle market will be as healthy as it was last year."