Opposition Leader Peter Dutton is also in attendance at the North Melbourne breakfast.
During his speech at the function, he compared the AFL to politics and the Speaker of the House of Representatives to an umpire.
"He tries to speak his decision but gives a lot of free kicks to the other mob," he told the audience.
"The teals are a bit like Greater Western Sydney, cashed up motley crew with a few extra draft picks but most of us are still wondering how on earth they got into the competition."
"The Coalition, on the other hand, is a bit like watching the Brisbane Lions. A merge of convenience back in the day, three consecutive premierships in recent history but couldn't back it up with a fourth."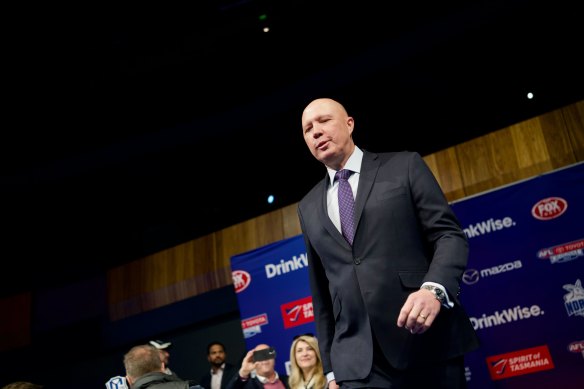 Dutton also reminded attendees about a gaffe by former Liberal prime minister Malcolm Turnbull ahead of the AFL grand final in 2008.
When Turnbull was asked what footy team he barracked for, he responded the Sydney Roosters.
"So there's hopefulness," he said.
Dutton, a Brisbane Lions supporter, sided with Deputy Prime Minister and Geelong tragic Richard Marles, tipping the Cats as the most likely winner in this afternoon's clash.
"Our friendship, of course, has been tested in recent times because not only did he win the election, he took my job as defence minister. But I'm siding with Richard today," he said.
He predicted the team would win by 10 points, with Jeremy Cameron taking home the Norm Smith Medal.