"I ask for support to return to Canada to my Treaty lands where I will continue in my pursuit for justice for myself and for my son, Vinnie"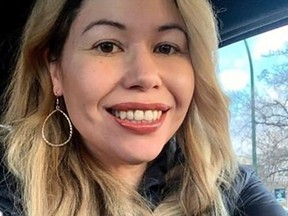 Article content
Saskatoon author Dawn Walker, who faces charges in Canada and the United States stemming from her two-week disappearance with her son, says she left because she "feared for my safety and that of my son."
Article content
Walker, 48, is currently in custody in an Oregon detention centre, with an arraignment hearing scheduled for Sept. 7 in Portland. Her son returned to Saskatoon with a legal guardian on Aug. 7.
A criminal complaint filed by an officer with the U.S. Department of Homeland Security alleges Walker used the identity of a friend and that person's child to facilitate her flight over the Canada-U.S. border with her son (who the StarPhoenix has previously identified but is now not naming, due to his age, after he was found safe).
In a statement sent through her friend Eleanore Sunchild, who is a lawyer, Walker said she was "failed by the Saskatchewan justice system, the family law system and child protection."
Walker apologized to anyone she hurt, saying she "was left with no choice. No one heard me."
She said she was motivated out of her "immense love" for her son, who is her only child, but added "I will face the repercussions of my decision."
Walker faces a felony charge of aggravated identity theft and a misdemeanour charge of identity theft in the U.S., according to a criminal complaint filed in an Oregon court on Aug. 5. In Canada, she faces a charge of public mischief and parental abduction in contravention of a custody order.
It was the first time Walker has spoken out publicly on the charges. None of the allegations against her have been proven in court.
Walker was taken into custody on Friday after she and her son were located safe in Oregon City, Ore. following a two-week search that began after family last heard from her on July 22. The following day her red Ford F-150 truck and belongings were found by the riverbank in Chief Whitecap Park and reported to RCMP, with Saskatoon police learning of it two days later.
Article content
"I am fighting systems that continuously fail to protect me as an Indigenous woman and protect non-Indigenous men. This does not surprise me. Saskatchewan and the systems within have failed Indigenous people since colonization," Walker said in her statement, which was collected by Sunchild from Multnomah County Jail in Portland.
On Monday, Saskatoon police Deputy Chief Randy Huisman said any previous allegations made by Walker were "thoroughly investigated" and no charges resulted from those investigations.
He said police are looking into the possibility of one or more people who had assisted Walker in her alleged flight to the U.S. with her son.
Sunchild, who is in the U.S., said she travelled to Oregon over the weekend and visited Walker twice.
"She is holding up as best as she can," Sunchild said in an interview.
While Sunchild is unable to practise law in the U.S. since she is a Canadian lawyer, she said she is there with Walker and her son's best interests in mind. Her days have been long and full advocating for her friend, she said.
"I'm here as an Indigenous woman supporting another Indigenous woman, which is what we do for our friends and family when they're in trouble," she said.
Sunchild said supporters have written and lobbied on Walker's behalf for her extradition.
A six-page motion for detention filed by the district attorney in the United States District Court in Portland alleged Walker had laid out "an elaborate and well thought out plan" that involved kidnapping her child, faking her and her son's death and fleeing to the U.S.
Article content
The motion, written by U.S. Attorney Natalie K. Wight, said the alleged scheme was "designed for one purpose — to avoid the law and not be found." Wight alleged Walker went to "extreme" efforts to steal identities for her and her son that allowed them to enter the U.S. and hide, and that she hid and "funneled" assets to accounts to fund her flight from the law.
"Her efforts were both criminal and traumatic for the family members who suffered from her scheme," Wight said in the government's argument to keep Walker remanded.
Federal rules of evidence in the U.S. do not apply at detention hearings, as also made clear in the motion document.
Walker, in her statement, said she has a story to tell and wants to return to Canada to tell it.
"I didn't mean to hurt you my friends and family and the other women who can not obtain justice anywhere we turn. So many women and children before us have had to run for their lives to protect their children," Walker said.
"I ask for support to return to Canada to my Treaty lands where I will continue in my pursuit for justice for myself and for my son. I thank you from my heart for your love and support and for believing that I have my truth to tell."
tjames@postmedia.com
A timeline of the disappearance, search and finding of Saskatoon mother and son

Updated: Dawn Walker detained in U.S. as a flight risk

U.S. court documents detail cross-country Dawn Walker investigation

Supporters rallied for Dawn Walker on Sunday amid 'mixed reactions;' police announce charges
The news seems to be flying at us faster all the time. From COVID-19 updates to politics and crime and everything in between, it can be hard to keep up. With that in mind, the Saskatoon StarPhoenix has created an Afternoon Headlines newsletter that can be delivered daily to your inbox to help make sure you are up to date with the most vital news of the day. Click here to subscribe.