Health Minister Mark Butler said the "failed app" cost taxpayers more than $10 million to develop, a further $7 million on advertising, $2.1 million on upkeep and $2 million in staffing costs.
"This failed app was a colossal waste of more than $21 million of taxpayers money," Mr Butler said.
"It was contact tracers working on the ground who were the real success story, not this failed app."
App found 17 close contacts
The spread of the delta variant last year forced health authorities to abandon earlier efforts to identify each individual infected with the virus, raising questions about the usefulness of the app.
Even before the spread of delta, state and territory governments including NSW, Queensland and the ACT had either stopped using the app or never accessed it.
A study by public health experts from UNSW and the University of Queensland found the app had identified just 17 additional close contacts that were not located through contact tracing by NSW Health between May and November 2020.
Of the 619 positive COVID-19 cases recorded in NSW over this time, only 22 per cent were using the app, and the app detected just 15 per cent of true close contacts located by state-based contact tracers.
"In our study, COVIDSafe did not make a meaningful contribution to the COVID response in NSW during 2020. Instead, the app created a high workload for no clear benefit," the researchers concluded.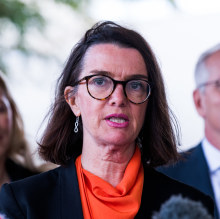 Former social services minister Anne Ruston defended the app as having "served a purpose".
"Even though [17] may seem like a small number, that could have had a very significant impact on the health outcomes or the economic outcomes for our country," she told a senate committee of the number of cases it had identified.
The Labor-led committee recommended the Morrison government cease any further expenditure on the app.
The COVIDSafe app uses bluetooth technology to identify contacts who also have the app and then filters out all exposures other than those who have been within 1.5 metres of an infected person for a certain period of time. These contact details were made available to contact tracers.
Clarification: An earlier version said the COVIDSafe app had cost $9 million. After the government provided further information, the figure was updated to $21 million.