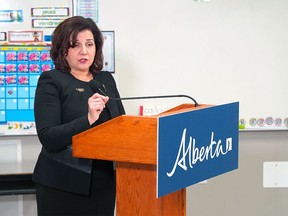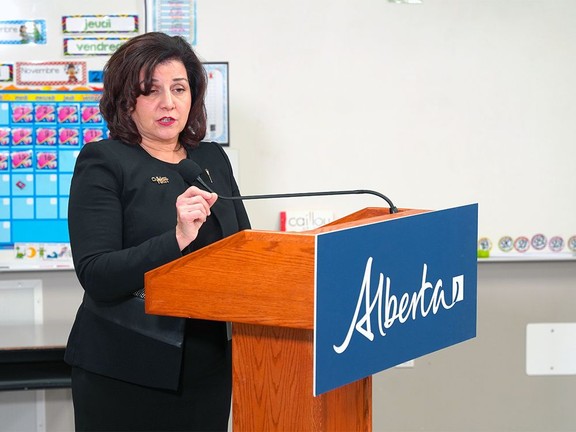 Article content
The Alberta government is putting new constraints on how the province's schools can move to online learning, as well as specifying that mask-wearing can't be a condition of attending class.
Article content
Changes announced Thursday mean school authorities can shift Grade 1 through Grade 12 classes online only if they also maintain an in-person option for parents who want to keep sending their kids to school.
Article content
The government also stated that students from early childhood programs to Grade 12 can't be denied in-person education "due to their personal decision to wear or not wear a mask."
Sick kids and upswing in school absenteeism concerns Alberta parents

Edmonton Public Schools requests data on health protocols after spike in student illnesses
Mask mandates have not been in effect in Alberta schools since February.
The new regulations come into effect immediately. Specific educational programming being provided in a hospital or correctional facility, for example, will be exempt from the in-person learning requirement.
Article content
The move follows rising concerns about high student absenteeism rates with this year's fall respiratory virus season hitting particularly hard. In the first winter season without public-health protections since 2020, respiratory syncytial virus (RSV), influenza and COVID-19 are all circulating.
Hospitals are also facing a surge of sick kids. The Stollery Children's Hospital medical director confirmed last week that the children's hospital is full, but staff are prepared to create surge spaces.
In a letter to parents earlier this month, Edmonton Catholic Schools chief superintendent Robert Martin said while in-person learning is the priority, "it may be necessary to shift individual classes or grades to online learning as required due to operational challenges."
An Edmonton Catholic Schools spokesperson later said this would be considered only "after all other options to maintain in-person learning have been explored."
Last week, the board of trustees at Edmonton Public Schools requested specific thresholds to guide when mandatory isolation and masking should be put in place in schools.
Article content
The board noted that a recent Court of King's Bench of Alberta decision found the Alberta government acted "unreasonably" in lifting a COVID-19 mask mandate for schools last winter.
Premier Danielle Smith has said she doesn't support the return of masking in classrooms. She said in a Thursday statement that parents and students want to be in a "normal school environment."
"With that in mind, we have taken steps to protect and enhance educational choice. Families are free to make their own personal health decisions, and, no matter what that decision is, it will be supported by Alberta's education system."
NDP Opposition Health Critic Sarah Hoffman said in a statement that the announcement shows the premier and education minister "don't have a clue" what's happening in schools.
Article content
"It is totally unrealistic to expect that school districts can staff in-person and online classes simultaneously with no additional resources," she said. "They are struggling to staff schools already given UCP cuts in the last budget."
The province's Public Health Act would override the new policies, so if the chief medical officer of health made a future order restoring school mask mandates or requiring a broad return to online learning, those decisions would stand.
A government news release said that the changes are about providing clarity and creating a "guarantee" of access to in-person learning and ensures "personal and family choices are respected."
"Securing a face-to-face classroom environment means students can continue to learn successfully while allowing their parents to go to work. It will also help to maintain and improve student mental health while minimizing student learning loss," Education Minister Adriana LaGrange said.
— With files from Lisa Johnson and Anna Junker
masmith@postmedia.com